Join or Create a Student Organization
Did you know that University students who are involved in at least one student organization or co-curricular activity are more likely to be engaged and to have a sense of belonging within their community? These students are also more likely to complete their degree programs and graduate from college, achieiving more of their goals, and having a larger sense of empowerment!
UL Lafayette students distinguish themselves by taking an active role in campus life and our greater community. Regardless of what your unique motivations may be (making a difference, discoving new opportunities, exploring identities, making friends), you'll find more than 190 clubs and organizations here at UL Lafayette, and that list is growing to be more inclusive! Our RSOs (registered student organizations) include: student publications, academic recognition societies, major-focused groups, peer education groups, community service organizations, student government, Greek life, special interest and leadership groups, religious organizations, and club sports. There is something here for everyone! If you don't quite see the group that is more resonant with you, our office can help you start and develop a new student group on campus. We want you to feel welcome and valued, and together, we can make that happen!
We are making lots of updates to the Student Organizations pages, so, we hope you can be patient. If you encounter a page that might be a little out-of-date, not to worry: changes are coming. Plus, you can always let us know if you see something odd by emailing us here. We're getting there, and we are always open to your ideas and thoughts! To learn more about activities on campus and find additional information about our student organizations, log in to our Pathways site with your ULID and your password (the same log in info you use to access your UL Lafayette student account).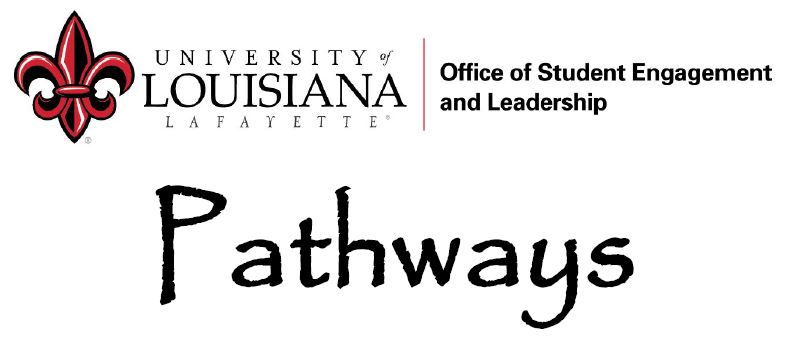 Learning More by Using Pathways
You can also learn more and find addtional information at the University's Pathways website. Sign in using your ULID and your password. If you are an incoming student and are interested in learning more about our many student organizations, you can begin by exploring the different pages on our website (getinvolved.louisiana.edu), and sending us any questions you have. You can also e-mail Thomas Tolley at thomas.tolley@louisiana.edu.

Get Involved with UL Lafayette!