The Emerging Leader Summit is an excellent opportunity for freshmen and sophomore leaders. Participants will build a foundation of leadership development from the very beginning of their career at the University of Louisiana at Lafayette. Participants are challenged to think beyond positional leadership and are given the opportunity to explore what leadership means to them, to assess their personal behavioral style, and to tackle topics such as personal values, happiness, branding, body language, and communication. Participants leave with a clearer understanding of how they define leadership and why. Participants also interact with new student leaders from across campus, developing relationships and a network that stretches across UL Lafayette.
Emerging Leader Summit is a student developed program that will take place from 2:00 pm - 8:00 pm on Friday, November 3, 2017, beginning at Bayou Bijou Theatre in the Student Union at the University of Louisiana at Lafayette. We will select participants we feel will benefit from this program and can also contribute knowledge and experience to their fellow participants. Registration is open now! If selected, conference fee is $25. Check out pictures from previous years HERE!

Keynote Speaker: Stan Pearson, II
Stan Pearson, II is an author, bilingual speaker, motivational comedian, and host. His presentations on diversity, inclusion, and leadership are entertaining, educating, and interactive from start to finish. Stan's humor and charisma accentuate his ability to connect with audiences and create a positive and energetic experience. He has spoken with multiple groups and institutions across the United States, Mexico, British Virgin Islands, U.S. Virgin Islands, and Canada. Organizations who have utilized his services include Student Life, Orientation, and Multi-cultural offices, Greek Life conference planners, and businesses in myriad fields. Stan's accolades include being named APCA Speaker of the Year and Campus Activities Magazine's Diversity Artist of the Year Nominee.
Small Group Presenters:
Kimberly Billeaudeau

Kimberly Billeaudeau's presentation will be titled "The Next Big Thing".
Kimberly Billeaudeau currently serves as the Director of Career Services at the University of Louisiana at Lafayette. She has been in the Career Services profession for over fourteen years. Kimberly is involved in several local, regional and national associations for Career Services professionals and employers and is a past President of the Louisiana Association of Colleges & Employers. She provides training to students, alumni and employers on job search preparation, interviewing techniques, recruiting strategies and professional etiquette.
In addition, Kimberly currently serves as the Faculty Advisor for Delta Delta Delta Sorority and the Disney College Program Student Alumni Association. She also serves on the university's Student Organization Committee.
Brandon Palmore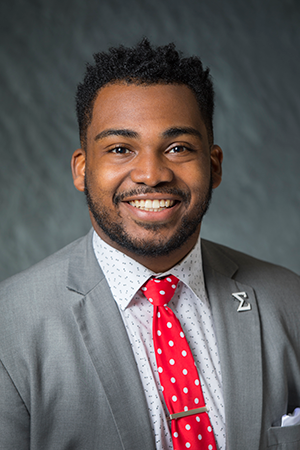 A native of Pasadena, California, Brandon Palmore is the Assistant Director of Student Engagement & Leadership, working with UL Lafayette's Fraternity and Sorority Life. A graduate of Texas A&M University -Commerce with a Masters Degree in Higher Education, Brandon also holds a Bachelor of Science degree in Computer Science from Langston University. He uses both his I.T. background and his Student Development education to empower, inspire, and lead. As a member of Phi Beta Sigma, he continues to work for the betterment of his community by engaging, developing, and supporting the next generation of leaders through courageous dialogue and thought provoking interactions.
Skyra Rideaux
Skyra Rideaux is a first generation college graduate and is known among her peers as an idea enthusiast.  Since 2013, Skyra has partnered with several community members and leaders to create, support and lead initiatives such as having black men dress in suits to greet students on the first day of school at Lafayette Middle; to facilitating the regions first Gulf Coast Young Professionals Summit, which resulted in 125 attendees from across the State and the creation of two new businesses.
Skyra is currently the chairwoman of the Evangeline Thruway Redevelopment Team (ETRT), a volunteer citizens committee appointed by the City-Parish Council and charged with helping guide the TIGER (Transportation Investment Generating Economic Recovery) grant work in conjunction with the I-49 Connector project. She was also recently appointed by the Mayor-President to serve as the Project Front Yard Coordinator where she is responsible for the government wide coordination of cleanliness, beautification and education activities which include revitalization of gateways, improved streetscapes, litter removal and prevention, public art, river cleanup and education.  Additionally, she is responsible for sharing information and working interdepartmentally with Lafayette Consolidated Government directors in the enforcement of ordinances that affect the appearance of our community and neighborhoods.
Although a public relations professional by trade, Skyra's purpose, passion and pursuits are more closely aligned with being civically engaged and community driven. She is a firm believer in servant leadership and the development and edification of people and communities. It is her personal mission to help community members, specifically those who are disadvantaged and under-resourced, to achieve their greatest potential through education, empowerment and access to opportunities.
Skyra most recently served as the Executive Director of Lafayette Community Health Care Clinic and as the Events and Public Relations Manager of Louisiana Immersive Technologies Enterprise (LITE). She has been recognized as an Acadiana Top 20 under 40 award honoree, a graduate of Leadership Lafayette Class XXVIII (28), a veteran of the United States Navy and an alum of the University of Louisiana at Lafayette with a Bachelor of Arts degree in Public Relations.
Dr. Caryn Winters

Dr. Winters's presentation is titled Communication Strategies for Projecting a Positive Ethos.
Dr. Caryn Winters is a native of New Iberia, LA. She received her Bachelor's degree from Loyola University New Orleans, where she had  dual majors in Political Science and Media Studies. As a Jesuit institution founded upon social justice and servant leadership, Loyola encouraged its students to be people with and for others. Dr. Winters deeply internalized this call to service, and joined the AmeriCorps program as a VISTA, or Volunteer In Service To America, where she worked as a community organizer in one of the most economically disadvantaged areas of Fort Worth, Texas.
Following her service, Dr. Winters pursued her Masters of Science in Interpersonal Communication at the University of Louisiana at Lafayette. After leaving UL, Dr. Winters attended The Pennsylvania State University where she earned her PhD in Communications. During her time at Penn State, Dr. Winters developed academic interests in media literacy, cultural studies, civic engagement, and the interrelationship among democracy, higher education, and the meaning of good work. Her research interests came together in her dissertation, entitled: The Primacy of Principles: Exploring Journalism Educators' Democratic Imperative to Do Good Work. Dr. Winters considers it a distinct honor to have the opportunity to return to UL Lafayette and the Department of Communication, where she serves as an Assistant Professor of Organizational Communication. Dr. Winters teaches courses that include Leadership Communication, Interpersonal Communication, Training and Development, and Communication Consultation.
She is the adviser for the National Association for Black Journalists and the Organizational Communication Association.
Conference Coordinators
Andrew Albritton
Andrew Albritton, a senior majoring in Economics/Legal Studies, is from the small town of Morgan City, Louisiana. He graduated valedictorian in 2013, and since starting at UL has gotten involved in a wide variety of campus organizations, including Sigma Chi fraternity, the Interfraternity Council, Student Orientation Staff, Student Leadership Council, The Big Event, and the Student Government Association. He credits the Emerging Leader's Summit, which he first attended in 2015 as an inductee of the Alpha class, with helping him to develop the leadership and networking skills necessary to be a successful student leader.
Benjamin Messner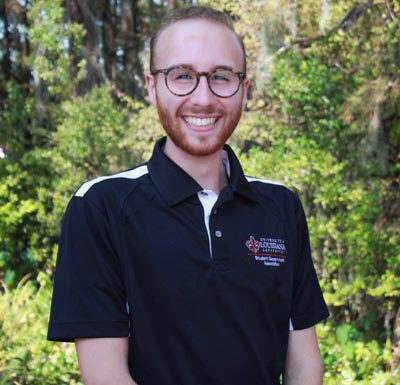 Benjamin Messner is a junior at UL Lafayette, majoring in English. The Opelousas, Louisiana native enrolled at UL in Fall 2015. Ben has been highly involved on campus: he served two years on the Student Orientation Staff (the second year as a member of the Leadership Team). Ben currently represents the College of Liberal Arts as a Student Government Association senator, in addition to serving on the Student Leadership Council, volunteering as a Peer Mentor, and is an active member of the Lambda Psi Chapter of Sigma Chi Fraternity, for whom he advocates for chapter alumni as Tribune. As a fraternity delegate, Ben attended the 2017 Huntsman Horizons Leadership Summit in Salt Lake City, Utah. Ben is also an active member of UL's Honors Program, having held the positions of Freshman and Sophomore Representative on the Honors Board. Ben attended 2016 Emerging Leader Summit (ELS) as a member of the Gamma Class, and is very honored to return as a 2017 Conference Coordinator.
Katie Wappel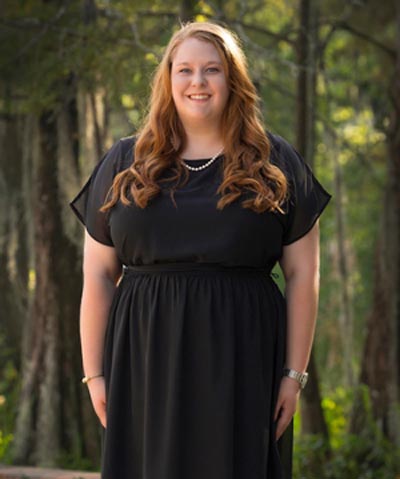 Katie Wappel is a senior at UL Lafayette, majoring in Business Informatics. From Springfield, Illinois, Katie came to UL in 2014 and has since joined multiple campus organizations. She is a currently a member and Chapter President of Alpha Omicron Pi sorority, Senate Chair in UL's Student Government Association (SGA), and a member of the Student Leadership Organization. Katie has also been part of the UL Honors Board, the Association for Future Alumnae, National Society of Leadership and Success (NSLS), and an officer for the Panhellenic Council. She attended the 2015 Emerging Leader Summit (ELS) as a member of the Alpha class and came back as a facilitator at the Spring 2016 ELS, an experience which has helped her grow as both a person and as a leader on campus. In Fall 2016, Katie served as an ELS Conference Coordinator, a role she is happy to be returning to in 2017!
Sponsored By:
Interfraternity Council, Office of Student Engagement and Leadership, Student Leadership Council, UL Lafayette Alumni Association and Student Government Association.